Free Fax Transmission / Reception Test Service:
INTERPAGE RE-FAX TEST SERVICE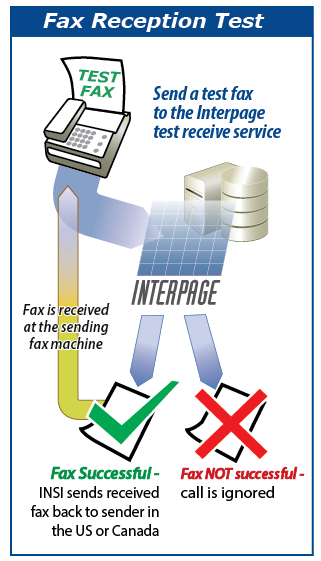 The Interpage Fax Test Transmit/Receive service allows you to send a fax from your fax machine or fax service, and Interpage will capture your CallerID, receive the fax, and if the fax is properly received, re-transmit the fax back to you at the number from which it was sent.
To use the Fax Test Receive service, send a fax (of no more than 5 pages) to (650) 530-9014 from the fax machine or number where you want the test fax re-sent to you.
If the fax is successfully received, a copy will be sent back to you, with an explanatory cover sheet from Interpage. The received fax will appear exactly as we received it, and can be used to guage the quality and appearance of faxes which your fax machine or fax service sends.
As with all Interpage free fax/test services, information obtained in the test reception and retransmission process is not used for marketing purposes, sold, or used in any way other than in furtherance of the completion of the fax reception test; please consult the Interpage Privacy page for details.
Re-Fax Test Instructions:
To test your fax machine's send and receive capabilities, make sure your fax is set up and the paper properly placed in the feed tray, and plugged into a phone line. Then:
Dial 1 (650) 530-9014
After the fax tone starts, press the green SEND button on your fax
Wait for the fax to be sent to the Re-Fax test service
In a few minutes, the Re-Fax service will call back
Your fax should answer automatically, if not, press SEND
Your sent fax will then be re-sent to you in its entirety

If you are unable to receive the fax which you sent to us, there may be a problem with your fax machine's ability to send properly; to have Interpage send a free test fax without having to send a fax to us, please use the Free Send Fax Test Service to send a pre-formatted fax to your fax machine directly.

Test Services Main
Last modified: 03/25/2020