Caller ID and Unwanted Call Rejection Service:
Interpage Caller ID Playback Test and Unwanted Caller Rejection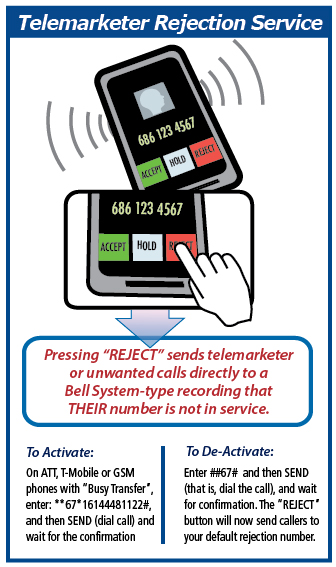 The Interpage Caller ID Playback test obtains the Caller ID from the number from which you are calling from, and plays it back in the format of a "Not In Service" recording, similar to a Bell System Automated Intercept Service (AIS) message, with the initial Multi-Frequency routing tones, and AIS tri-tone alert.
Callers will generally hear the three tone Bell System alert tones, followed by "The number you have reached...", at which point the Caller ID playback system will replay the caller's number, with spoken digits captured from a working Bell AIS service announcement system.
As the service reads back the ID of the calling number, the AIS tones and recording indicating that the calling number is not in service can confuse or disuade unwanted callers and telemarketers from continuing to call your number. Instructions on how to program your cell phone to force "rejected" calls to the Interpage Caller ID playback can be found to the right, or at the Wireless Notes Home page.
As with all Interpage free/test services, information obtained in the test reception and retransmission process is not used for marketing purposes, sold, or used in any way other than in furtherance of the completion of the Caller ID readback test; please consult the Interpage Privacy page for details.
The Interpage Caller ID/Bell System AIS Playback integrates best with cellular or VoIP/SIP-based phones which have a programmable "
REJECT
" button/display for incoming calls, which generally corresponds to the phone or service's "
busy transfer
" feature. Nearly all GSM phones in the US and Canada offer this (via the Busy-Forward menu option or using the **67* USSD code dialed from the phone dialpad directly).
Although the REJECT feature (busy transfer) is generally available with GSM phones (AT&T Wireless and T-Mobile in the US, and Rogers/Cantel in Canada, and their associated resellers and MVNOs), any phone which has a busy transfer feature should be able to work with the service.
To activate, set busy forwarding to forward to (614) 448-1122. (This can quickly be done from GSM phones by dialing **67*16144481122# and then SEND.
When a caller with a suspicious number calls, simply press the REJECT button to send the caller to the AIS service, telling the caller that the number is not in service.
To de-activate, simply turn off or disable busy forwarding. (On GSM phones this can be accomplished by dialing ##67# and then SEND).