Free Send Fax Test Service:
SEND A FREE WEB TEST FAX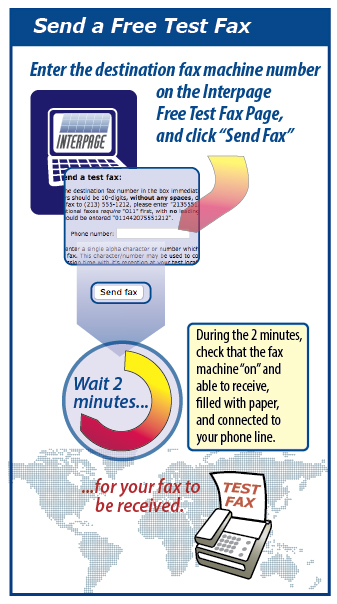 The
Interpage Free Test Fax Service
is offered by Interpage to demonstrate and promote our fast, robust, and reliable fax-based services.
You may use the web-based Free Test Fax Service to send a fax for free to any US/Canadian, Western European, New Zealand, or Australian-based destination to test out your fax machine and Interpage's fax services, with no registration or Interpage account required
The test service uses a template MS Word DOC file; many alternate fax formats, such PDF, PostScript, HTML/URLs/remote web sites, UUENCODE, XLS, Microsoft Office, plain-text, etc., are supported via the paid/subscription OutFax, FaxUnlimited, or InFax Web/Online-order-to-Fax services.
Generally, the Free Test Fax service allows for three test faxes per day, however, these parameters may change based on current load and use conditions.
Faxes may be sent from the Interpage Free Test Fax Service via the following steps:


Enter the destination fax machine to be tested ( 10 digits for the US/Canada, or 011+number for other locations)

Enter a brief text message to appear on the recipient fax

When done, click "Send Fax" and wait for the Interpage Free Fax Service to display the confirmation screen

Before the fax arrives, make sure that your fax machine is on, the phone line plugged in, and the fax is ready to receive the test fax message
Within 2 minutes, the test fax will commence reception at the destination fax machine.
Privacy and other notes:
Interpage advocates for and respects privacy interests, and does not utilize the Free Test Fax service as a means to gather data on those who utilize it nor as a means to market, sell, or in any way commoditize your information. As such:
Interpage does not use cookies or any form of tracking; generally, we only obtain your IP and any information which you submit (such as the fax destination) via the Free Fax service.

This information is not used to market to you, nor will Interpage or it's affiliates contact you via any means.

The information is not sold or distributed.

Additional information is available on the Interpage Privacy Policies Page.

Further details pertaining to the Interpage's Free Test Services, as well as to subscription and other services, may be found at: