Last modified: 03/25/2020


Interpage Voicemail, OutVoice, and Voice Services Free Demonstration
Interpage OutVoice, Voicemail, and Voice Services Test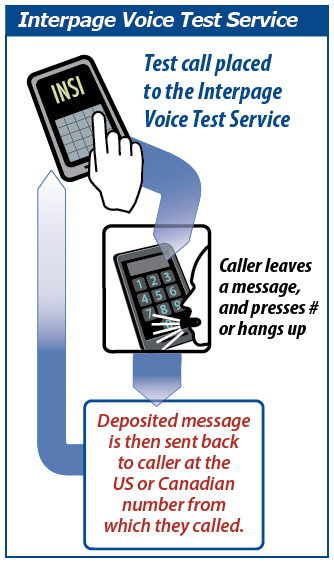 The Interpage Free Voice Test Service serves to demonstrate the voice delivery and notification options of the
OutVoice Verbal Alert and Notification
and the
Interpage Voicemail Box
services.
The Voice Test Service allows callers to leave a brief voicemail, and when done, the service will call back at the calling number and play back the received message. Callers to the free test service can then listen any distortions, drops, or other audio or service difficulties, from a vairety of phones and calling numbers, so as to determine the potential cause of any problems.
To utilize/test the service(s), callers should dial (510) 315-1211, and follow the prompts to leave a message with the Voice Test Service. Within a few moments, the OutVoice/Voicemail Service will call back and replay the deposited message.
If you are calling from a US-based cell phone, a short text message will also be sent to confirm receipt of your message.