Interpage Test Text Message Service:
Send a Free SMS and MMS/Multimedia Message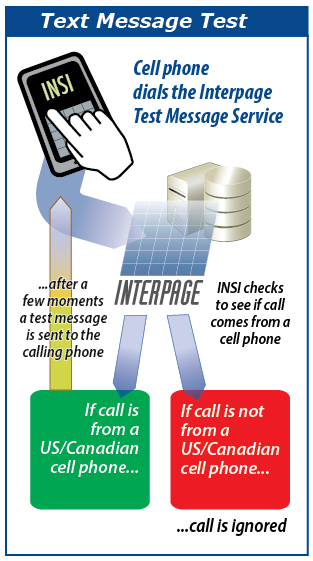 The Interpage SMS/Text Test Messaging Service sends test text (SMS), graphic/multimedia (MMS), and long (greater than 160 characters) multi-part text messages to US and Canadian cellular phones.
The Test SMS/MMS/Text messaging service may be accessed from any US and Canadian cellular phone by dialing (650) 456-4556 from the mobile phone to be tested. Callers should follow the instructions and menu prompts to select their carrier, after which their desired type of text or MMS message will be immediately sent to their phone.
Interpage's SMS/Text Test Service is free to use, and no information (other than the phone number to send the test message to) is gathered from the calling phone. Interpage does not sell any calling information, nor will callers be called as a result of use of the test service. Please see the Interpage Privacy Policies for additional information.
(Note: Although most modern calling plans offer free long distance to call the test number, and do not charge to receive text/SMS and multimedia/MMS messages, a few plans may still charge for such use; these charges, if any, are imposed by the carrier, not Interpage; please check with your carrier for details.)
Generally, 5 tests are allowed per week per calling/destination number, after which further attempts will receive a message that the maximum number of tests has been exceeded, and to try again after a week has passed.
Additionally, the free SMS/text service does not accept calls from toll-free, unknown, private or non-North American callers at this time.
Additional information on Interpage's free and subscription services is available at:
Interpage Home Page
Messaging and Paging Services Main
Fax Services Main
OutVoice and Voice Services Main

Last modified: 03/25/2020