Interpage's
Enterprise Messaging/Paging Gateway
allows for large-scale integration between web sites and servers to cellphones, SMS mobiles, alpha and numeric pagers, scripted dial pagers, and even
voice messaging devices
.
Interpage's
Personal/Small Business
gateway for cellphones, pagers, and SMS mobiles will free you from constantly having to check your email for new messages, as well as allow you to control when, from whom, and on what device people may message you,
without
ever having to disclose your pager/cellphone number!
Other messaging/paging services and applications are available, please review the
Messaging/Paging Main page
for details.
[
Back to Main
|
Interpage Overview
|
Messaging/Paging Main Menu
|
DirectPage Service
|
Alarm System Integration
|
International Gateway Svc
|
TAP to Pager/SMS
|
Self-Dispatch Svcs
|
Operator Dispatch
|
Voicemail Dispatch
|
WebAlert
|
OutVoice
|
Messaging Gateway Rates
|
Send a Free Page
|
OutPage Gateway Instructions
|
Sign Up
|
Free Trial
|
Contacts
]
---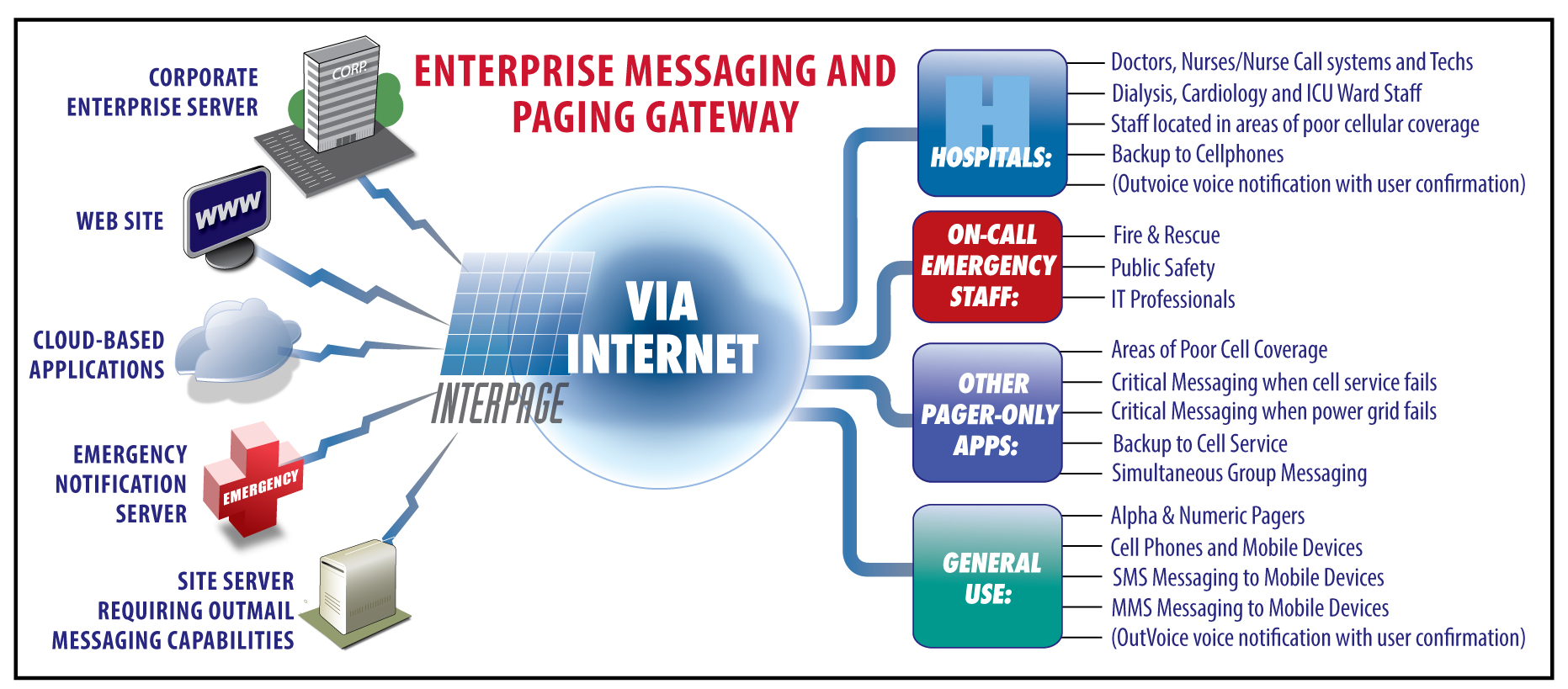 Please select one of the below Messaging/Paging gateway service classifications:





Enterprise Messaging Gateway: Enterprise/Commercial users, ISP's, Webmasters, and other Web and E-Mail oriented service providers may use our fully automated Messaging, Paging and SMS Gateway to send multiple pages via one singular account to US/Canadian and International cellphones, SMS mobiles, alpha and numeric-only pagers, and other messaging devices. (faxes and text-to-speech messages may be sent as well, please inquire for details).





Personal/Small Business Messaging Gateway: Interpage's personal/individual gateway service for Pager and Cellphone owners allows customers have some or all of their e-mail and Web-based messages sent instantly to their mobile devices, without having to change pager service and/or e-mail/ISP providers, and without having to divulge to anyone their pager's or mobile phone's telephone number or e-mail address! Interpage's robust and flexible paging and messaging gateway can additionally dispatch to PIN-type paging systems, send numeric pages to cellphones without having to ring the given mobile, or other non-standard, dialable paging systems.


---
Contacts
To receive additional information about Interpage's Messaging and Paging Services, please contact us via:
Web-based Support/Inquiry Interface
Telephone:
+1 (650) 331-3900.
Interpage Contacts
Page
We will be happy to answer any questions you may have concerning our pagingor other services
---
Last modified 12/27/2019